How to treat patients in your pyjamas – 5 ways health businesses can take their services online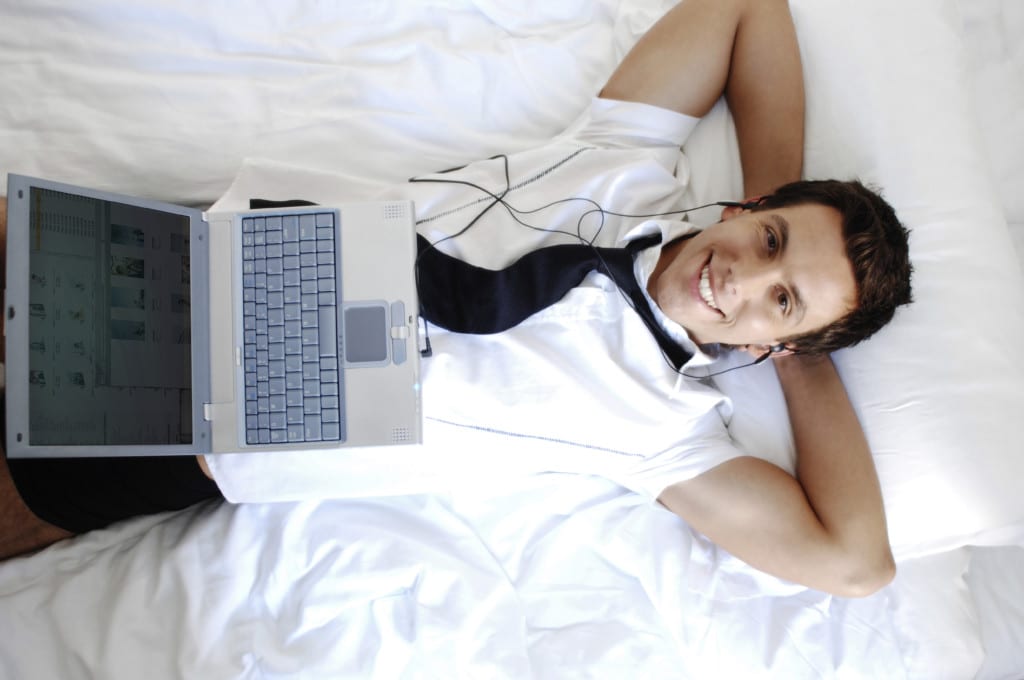 There I was, in the midst of a bone chilling Melbourne winter, propped up in bed under some toasty blankets with my laptop on my knees. As I hit 'send' on a message for a patient that I was treating online, I couldn't help but chuckle.
I was, quite literally, treating a patient in my pyjamas.
My ultimate goal in setting up an entirely online 'telehealth' clinic had been to remove geographic boundaries and reach more people, however the fringe benefits of flexible hours, fluid locations and flannelette as workwear made me suspect that more health professionals would want in on the action.
Over the past few years I have spoken to many owners of service based health businesses, and their common gripe is being chained to the same 4 walls from which to provide their services.
Although taking your entire service offering online is a huge step, it is important for health businesses to realise that there are many small, easy ways that components of your service can be taken online. The net result is that you can start to cast your net much further, your profile can grow within your area of expertise, and more people can access (and pay for) your skills with less direct time input from you.
So answer these five questions to uncover five quick and cost effective ways that you can start to take your health service online:
1) WHAT IS A STORY THAT YOU OFTEN TELL YOUR CLIENTS TO EXPLAIN A KEY TREATMENT TECHNIQUE, EXPLAIN A CONCEPT, OR MOTIVATE THEIR RECOVERY?
Your 'go to' story could be an analogy, a real life example, or a tale of woe. Stories are a compelling way to convey a message, so turn your story into a blog post and share it with the world.
2) WHAT INFORMATIVE DOCUMENT OR BROCHURE IS LYING AROUND YOUR CLINIC IN HARD COPY FORMAT?
These are often crookedly photocopied patient handouts with great information and crappy design. Head to canva.com to make it look pretty and then upload it to issuu.com to share, share, share.
3) WHAT IS A COMMON MISCONCEPTION OR QUESTION PEOPLE HAVE ABOUT YOUR PROFESSION THAT JUST KEEPS POPPING UP?
If people are asking you, they are probably googling it too. Change out of your PJs and brush your hair, then record a simple, clear iphone video of yourself answering that question. Upload it to YouTube and make yourself the top google pick for that question!
4) WHAT IS A SERIES OF TREATMENTS AND/OR EDUCATION THAT YOU COMMONLY ADMINISTER?
Although every patient is different, there would be standard courses of education or training that you progress through repeatedly with many individuals.
Write down the steps you normally advise your patient on each week, and turn them into an automated email stream or course that people can register for on your website.
5) WHAT ARE 5 BITS OF INFORMATION THAT WOULD STOP PEOPLE NEEDING YOUR SERVICE?
As a health professional, you need an excuse to connect with people before they 'break' and need your service. By creating a series of cute, graphic tips to share like crazy on social media (the WordSwag smartphone app works a treat), you can connect with your audience before they even need you. (Trust me, many of them will still need you!)
All of these pieces of content are designed to offer genuine value and to help people, but they are also there to create awareness of what you do, and make it easier for people to find you again in future. For this reason, don't forget to incorporate your call to action and/or website link in all of the above.
You became a health professional to help people, so you owe it to yourself to reach even more people by moving online.
Pyjamas are optional.